What Should Be the Pooja Mandir Direction in Your Home?
•
Posted on December 26 2020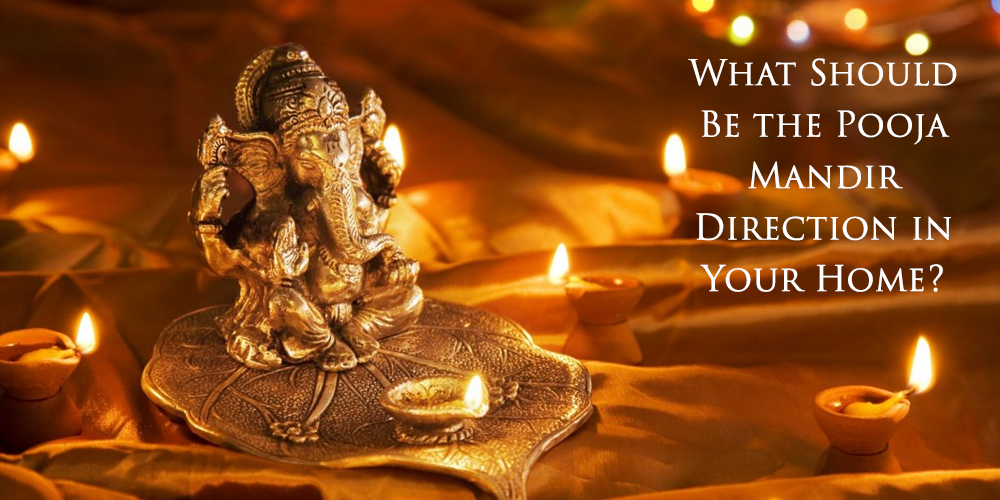 When it comes to deciding the direction of a 'pooja mandir' in your home, there are many guidelines in the Vastu Shastra that must be followed. Your pooja room is a sign of peace and prosperity in your house. It is the center of all positive energy which harnesses through every corner in your house.
While you may ultimately face the direction of God in any direction (worst-case scenario) you like, you cannot sideline the Vaastu position of your pooja mandir. It not only keeps unwanted negative energy at bay but also helps make your home an oasis of tranquility.
Before the completion of your home or during any kind of renovation or remodeling, you must vitally ensure that strict guidelines laid down by the Vaastu Shastra are being followed.
Room placement
According to Vaastu Shastra, the ideal placement for pooja mandir/ pooja room/ prayer area is the 'north-east' location. This direction is considered to be the most divine and hence makes for the perfect direction to place your pooja mandir.
If you live in a confined space but would still like to have a dedicated pooja room in your house, then east or north direction would be the second-best direction.
If the locations are confusing, especially if you live in a household whose directions are severely jumbled, then we recommend you to hire a professional who can help you with the placement your pooja room in the right location.
Keep in mind to never have a staircase right above the pooja room. It will mean that people walk over the roof of the pooja area. Also, keep your room away from the toilet. Make sure to not align the walls of your pooja room with a toilet whatsoever. Also, do not locate your pooja room such that it faces a toilet directly.
Design and color
Typically, your pooja room should be shaped in the form of a Gopura. A pyramidal structure like that of a Gopura is essential in spreading optimistic energy and vibration to the devotees. Also, ensure that there is a two-door entry into your pooja room.
Your pooja room marks peace and spreads serenity into your household. Hence, choose a serene color to paint your pooja room walls. Either choose from whites, cool blues, shades of yellow, orange or soothing pinks.
Placement of God
Remember to never place your idols such that they are facing each other. Also, make sure to never place God on the floor. Use a wooden base like a podium and then place your idols such that they are slightly lifted from the ground.
Do's:
Always situate your pooja room in the Northeast, North or East side of the house.
Face east/north while worshipping.
Place the pooja room on ground floor.
Always have a double door entrance setup.
Make the roof of your pooja room into a pyramid/gopura structure.
If you have a big property, construct your pooja room in the center to achieve maximum positivity.
Place the idols a few inches away from the wall.
Make sure your idols are in perfect condition without any chips or cracks.
Use copper vessels in your pooja room.
Paint your walls in light and soothing colors.
Keep it clutter free.
Always keep only one pooja room in the property.
Don'ts:
Do not use your pooja room for any other purpose other than for pooja and offering prayers.
Never place it against, adjacent or in front of a bathroom.
Try not to place a pooja room in your bedroom.
Never use damaged, chipped or cracked idols in your pooja room.
Do not clutter it with items that do not belong in a pooja room.
Do not hang pictures of the deceased in a pooja room.
Never face your idols south.
Never place a pooja room in the top floors or the basement.
Never place a dustbin in your pooja room.
Make sure that your pooja room is not located underneath a staircase.
Never sleep in your pooja room.
Now that you understand the reasons behind placing your Pooja Mandir in the right direction, revamp your sacred space and bring the much-required positivity in your household. Remember to save this article so that you have easy access during the time of your construction/renovation.
We hope that your prayers will be bright and all your blessings come true.
For Pooja samagri, wide variety of god idols and much more, visit: https://thepoojastore.com/