How to clean Pooja articles & God Idols
•
Posted on November 03 2020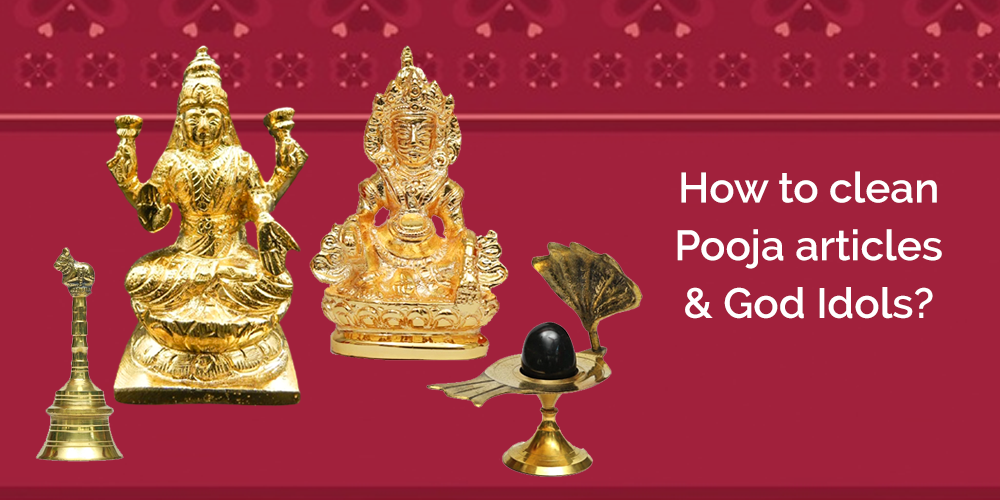 Why to clean idols.
Idols which are kept in households are generally made of silver. As we know silver is the best conductor of energy. It is believed that they absorb the negative energies around and thus leave the surroundings pure. In order to remove these negative energies a cleansing (washing) of the idols is carried out periodically.
When to clean idols.
Just after Amavasya every month and also before major festivals and before commencement of festive seasons like Dussehra, Deepavali and month of Shraavana. This process is carried out early in the morning before your morning poojas.
Traditional and eco-friendly method of cleaning:
This traditional method we use soap nuts from the soap nut tree. Any type of material can be cleaned with this method i.e., gold, silver, brass, copper etc.
Method 1:
1.Take around 6-8 soap nuts (for around 10 idols of medium size) and mash them into large pieces in a mortar and pestle. Boil some water in a vessel and soak them overnight.
2.Separate all parts of the idol i.e., prabhavalli, peetha and idol etc., the wash it in water to remove kum kum or sandal bindis.
3.nicely squish the soap nuts into the water and remove it. This water will be soapy.
4.Place all the items in this soapy water and allow it to soak for around half an hour.
5.Take a soft metal bristled brush and scrub it thoroughly.
6.After scrubbing wash them in plain water again.
7.Wipe it thoroughly with a dry cloth and put Kum Kum bindis.
This method is time consuming and a bit strenuous. Below are a few simple methods to clean specific materials.
Method 2 for Copper:
Soak some tamarind in little water. After it is soft use the tamarind as a scrub and scrub thoroughly. This gives a beautiful shine to the copper utensils making it look brand new.
Non-traditional methods
SILVER
Type 1: Aluminum foil method
Materials required: Aluminum foil, cloth, washing detergent (surf exel, tide etc.,), water, Tooth brush or soft metal bristled brush.
Method:
1.Separate all the removable parts and wash it thoroughly in room temperature water.
2.Fill a container with enough water to submerge all the idols. Boil this water and remove from the stove.
3.Add 1 tsp of soap and stir well.
4.Take an aluminum foil enough to completely cover all the idols. Line the bottom of the vessel with this foil then place all the silver articles and fold over the foil.
5.Leave it for 15-20 mins.
6.Remove and scrub well with tooth brush. Rinse completely with running water.
7.Wipe thoroughly with a dry cloth and decorate as you please.
This give a good shine to the silver article and is a quick process.
Type 2: Baking soda.
Materials required: cleaning brush and baking soda.
Method:
1.Wash the idols under running water by separating all the removable parts.
2.Dip the cleaning brush in the baking soda and scrub the idol with this.
3.Wipe with a dry cloth and decorate as you please.
Type 3: Toothpowder (Colgate tooth powder)
Method:
This is a dry method where the articles have to be dry. Tooth powder is generally used by jewelers to remove black spots on silver articles.
1.Wrap a soft cloth around the tip of you finger and dip it in the tooth powder.
Scrub gently over any black spots. You can wash it with plain water after this. Dry immediately with a soft cloth. 
BRASS & COPPER
Soap nuts can also be used to clean brass articles.
Pitambari shining powder can be used to clean brass and copper articles effectively. (I will not recommend it for silver articles as I find it removes a layer of silver over repeated use.)
Method: Take some powder in your hand or a soft scrub and gently scrub the article and wash thoroughly with plain water. Wipe dry with a soft cloth.
GOLD
Since gold is a soft metal it needs a gentle cleaning process. Take a tooth brush, dip it in some soapy water and gently scrub it . As gold is a non-reactive metal it is not prone to oxidation just the dust and grime can be easily removed with gentle cleaning.