How to Store Silver Pooja Items at Home?
•
Posted on December 15 2020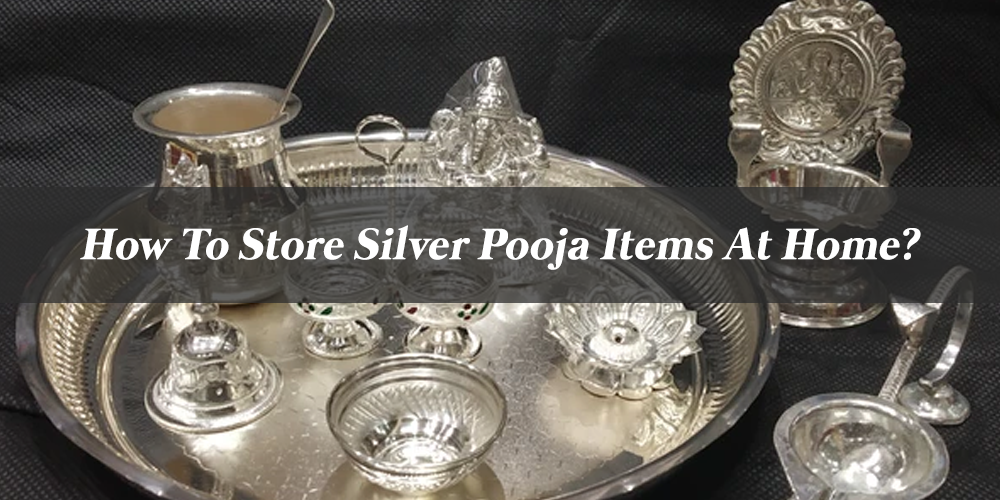 Don't be surprised to read the title. Yes, pooja samagri and other pooja items are now available online. You asked for it, we brought it to you. If you have already bought your favorite puja products online, you want to store them ever so perfectly to prevent any kind of damage whatsoever. After all, all that glitters won't last forever.
While that proverb maybe true, when it comes to literal piece of silver, a few tips and tricks can keep the glitter alive for a very long time. Most of it is based on how you store your silverware, including your silver pooja items.
Read to find out how you can store your silver pooja samagri at home.
Always keep your silverware clean
Over a long period of time, the slightest exposure of bodily fluids including the oils present in our hand or sweat lodged in-between our fingers can take residence in the cracks and crevices of your silver pooja items. Over-time, this exposure can degrade the quality of your silver and might even cause discoloration.
Use the right cleanser
You might be of the opinion that your silverware requires fancy cleansing agents. You'll be surprised to know that plain old dish bar or a liquid dish liquid will do wonders in retaining the shine of your silver puja products.
If you want to take your cleaning a step further, you can quickly whip up an organic homemade remedy using soapnuts. Add about 4 or 5 soapnuts to a bowl of hot water. Allow the nuts to become softer and then you can squeeze the pulp into the water. Now you can either choose to soak your silverware in this liquid or get to cleaning immediately. Then, gently rub on them with an old toothbrush, depending upon the amount of dirt accumulated on your items. If there are so many silver products, you can also use powdered soapnuts to do the cleaning.
Dry properly
No matter what you do, remember that you can't retain any moisture on your silver pooja samagri after cleaning. Always remember to use a microfiber cloth after washing your silver puja products. Microfiber clothes do not contain any abrasive materials and will help in keeping the outer coating of silver intact. The outer layer will help silver retain its properties.
Store in air-tight boxes
Air might contain moisture and other fluids that might tarnish silver or cause its quality to degrade over time. Get yourself some large air-tight boxes to store your pooja sets. If you are storing it in your wardrobe or a cupboard, make sure to choose one that is not being opened frequently. Also, wrap your silver pooja samagri in tissue paper or other moisture-wicking wrapper before storage.
Use charcoal or silica gel
If you are one of those personalities who likes to store those tiny packets of silica gel for later use, now might be the perfect time to use it. On the other hand, you can also use a bag of charcoal and store them inside the wrapping or the cupboard along with your silver puja products. Remember, the key is to avoid all kind of moisture. Silica gel and charcoal will help wick the moisture.
 Make some time for your silverware
Your silver pooja samagri is meant for usage. By usage, you are offering your time and attention to your silver puja sets. This is the best way to prevent any kind of tarnish. Use them and follow the aforementioned techniques to take care of your silver pooja kits to keep them looking brand new for several years.
These few tips and tricks will help you store your silverware, pooja samagri and other pooja items with great ease. Remember that you must always store your silver puja products away from moisture and acidity. We hope that this guide can help you store your silver puja products properly.
For pooja combo kits, silver puja items, pooja samagri online, visit https://thepoojastore.com/