Where to Buy God Idol Dresses Online?
•
Posted on April 30 2021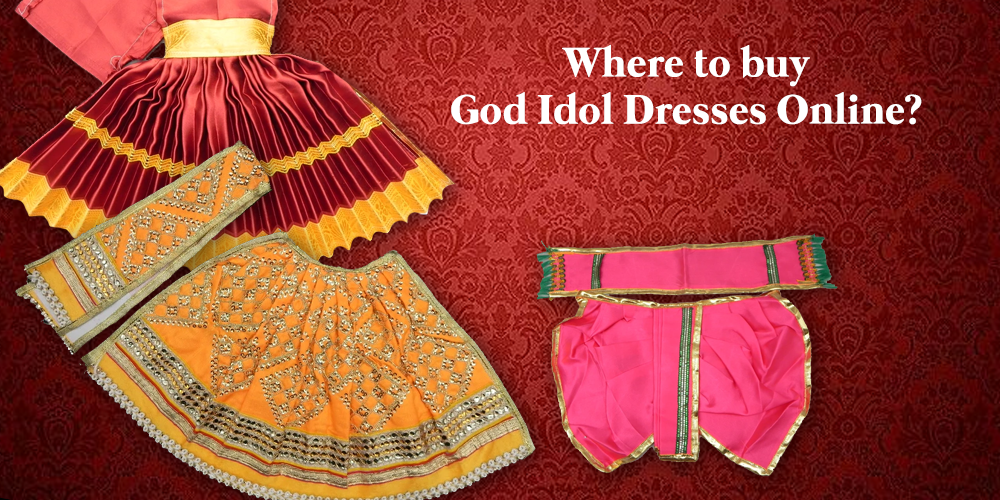 "Hinduism insists on the brotherhood of not only all mankind but of all that lives." – Mahatma Gandhi.
Hinduism consists of several different practices that each have a deep significance transcending decorative values. One such culture is that of colors. Hindu artists have long used bright colors in depicting gods and their idols. It is an idea that has been picked up by the way we perceive and interact with the world. Each color plays a role in the way we react to things, feel emotions or create a sense of environment.
Colors bring with them joy, sorrow, warmth, peace, violence and much more. The same is reflected upon how we choose to dress our God Idols. Several idols are dressed in some of the most sacred colors of Hinduism.
The color saffron represents fire and wearing it represents the quest for light. Yellow, the color of light symbolizes happiness, peace and meditation. Blue signifies depth as it is the color of ocean, sky, rivers, lakes and the rest. White is a color that according to science a mixture of seven different colors of the visible spectrum thus symbolizing multi-faceted personality of Lord Shiva, his purity and cleanliness. The color red represents sensuality and purity. It is one of the most significant colors of the Hindu religion.
For example, saffron is the color to represent holiness and you can see Munis and Rushis wearing saffron clothing to represent the same. Lord Vishnu is often adorned in yellow representing the plight of his knowledge. Mata Saraswati can be seen in white sitting on a white lotus. Blue is the color given to the ultimate. Lord Rama and Krishna are depicted in blue signifying their bravery.
Thepoojastore brings you specially curated idol dresses so that you can decorate your god idols at home. We offer you the best idol dresses for symbolizing your faith and adorning your precious idols to enhance their appearance. The legend of Hinduism is depicted in bright colors and saintly stories. One of the ways you can practice bhakti is through radiating harmony through beautifully colored god idols in your pooja room. You can choose from a range of sizes depending on what size suits best to your idols. With an option to choose from a range of sizes depending on what size suits best to your idols, you have the ultimate solution for adorning your idols with beautiful colors.
Bring a new hue to your home, order god idol dresses online: https://thepoojastore.com/collections/god-dresses
Be festival ready with thepoojastore.